How they place veneers on teeth
Dental defects, regardless of whether they are acquired or congenital, are generally amenable to correction. The treatment is called orthopedic. Veneers are the way to change or enhance the look of undesired teeth. Veneers can correct imperfections and create an attractive, natural-looking smile.
What are veneers?
Veneers are plates that are non-removable orthopedic structures. Veneers correct aesthetic defects, like tooth shape and discoloration.
A dentist may place veneers to restore a single tooth, some or all teeth to create a smile makeover. The installation is performed by micro prosthetics. The veneering material effectively masks several aesthetic problems.
The lifespan of veneers depends on their type. For example, ceramic plates will last more than ten years, and composite ones no more than three - five years. The most durable are the lumineers, whose service life is twenty years or more. In addition, the condition of veneers largely depends on how patients care for them and the oral cavity as a whole. If the doctor's recommendations are not followed and poor hygiene, chips, stains, and cracks may appear on them.
Who is a good and who is a poor candidate for veneers?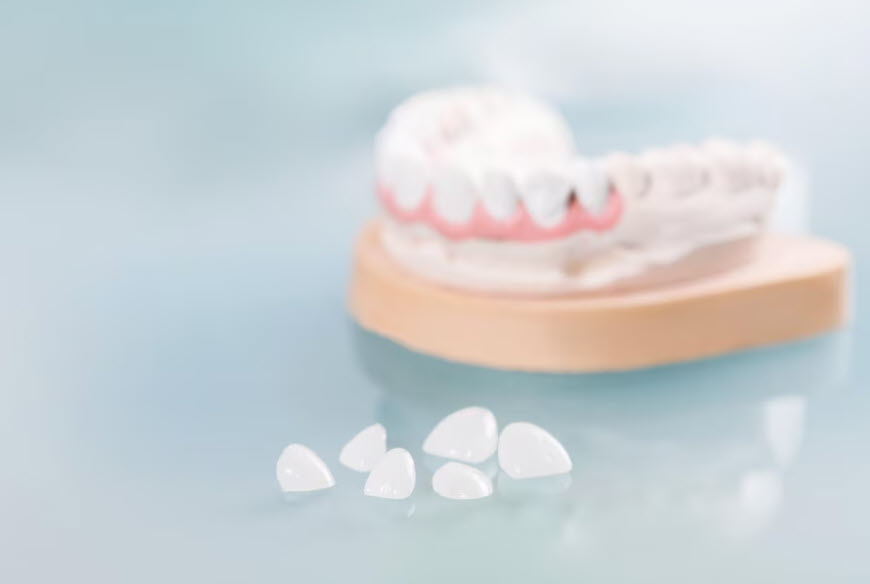 Installation is possible only for adult patients, including healthy teeth, if, for example, the enamel color has turned yellow. In this case, porcelain and ceramic veneers are chosen, which allow to lighten the dentition by several tonnes.
People who choose veneers want to make minor changes to their teeth. These may include:
Uneven-sized teeth
there are defects, chips, or cracks on the teeth;
there are diastemas (large interdental spaces);
there are old fillings;
enamel turned yellow;
there is an overabundance of fluoride in the patient's body. As a result, staining of tooth enamel starts.
People should not get veneers if:
The inside of their teeth is severely damaged;
there are no teeth that perform a chewing function;
the patient prefers extreme sports;
the bite is incorrect;
the patient suffers from bruxism;
there are large fillings on the inner side of the teeth;
there are such bad habits as opening seeds and bottles and cracking nuts with teeth;
The enamel is thinned.
What are veneers made of?
The plates are quite thin; their thickness can vary between 0.2–0.5 mm. But despite this, the materials they are made with ensure their durability, strength, and reliability. Veneers come in two types, depending on the material — composite and ceramic.
Composite plates are made of organic resins containing microparticles of ceramics or glass and are used for direct prosthetics. The material is applied in layers directly to the tooth. The advantages are biocompatibility, low price and quick installation. What is more: they look natural. The other two are low price and a quick installation. The disadvantages are grinding teeth down is required, composite plates tend to change color and fade over time, and their strength index is lower.
Ceramic veneers are made of zirconium dioxide, porcelain, or lithium. They are used for indirect prosthetics. Initially, an impression is made from the patient's teeth, and then plates are made from it in the laboratory. The advantage of a micro prosthesis is good biocompatibility, maximum natural look, color fastness and durability. The disadvantages include a pretty long production time of the prosthesis — at least 14 days, requires removal of natural tooth structure, and it's expensive.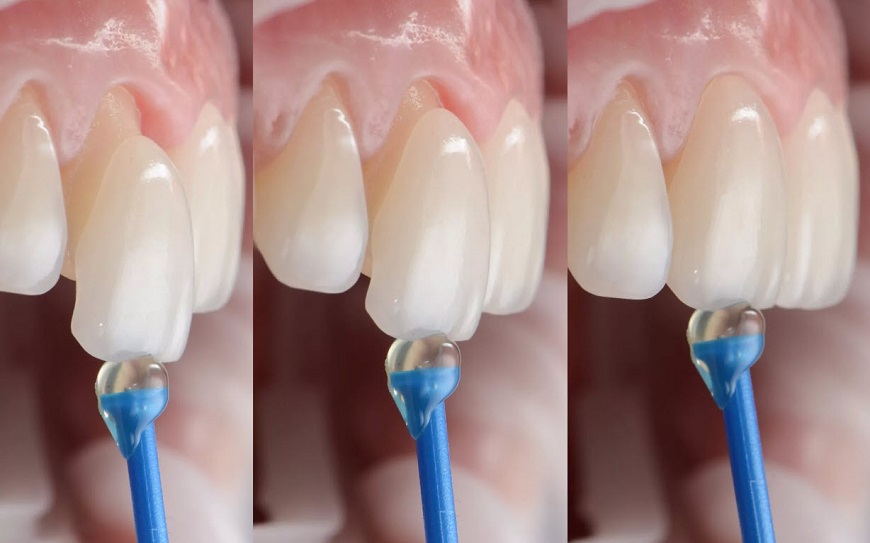 But the principal disadvantage is that the procedure is irreversible. Veneers require the removal of the enamel surface of the tooth, which does not recover on its own. Therefore, the only way out when refusing veneers is to install crowns.
Lumineers
Lumineers are a brand of veneers that are also made of ceramics. They are only available from the Cerinate company in the USA. They are high-strength and fully biocompatible. Grinding teeth to install them is unnecessary, and they look much more aesthetically pleasing. But such ceramic veneers have two significant drawbacks — a high price and a lengthy production.
The stages of veneer treatment
Dentists practice two ways of installing veneers: direct (composite linings) and indirect (lumineers, ceramic plates).
Indirect treatment involves the following steps:
preparation of teeth;
shade selection;
anesthesia;
teeth turning;
taking impressions;
installation of temporary veneers for a time while permanent ceramic plates are made in the laboratory;
Removal of temporary veneers and installation of permanent ones.
The direct method also involves several stages:
preparation;
Anesthesia;
turning;
application of the material in layers. Each layer is dried by a lamp.
Cost of Veneers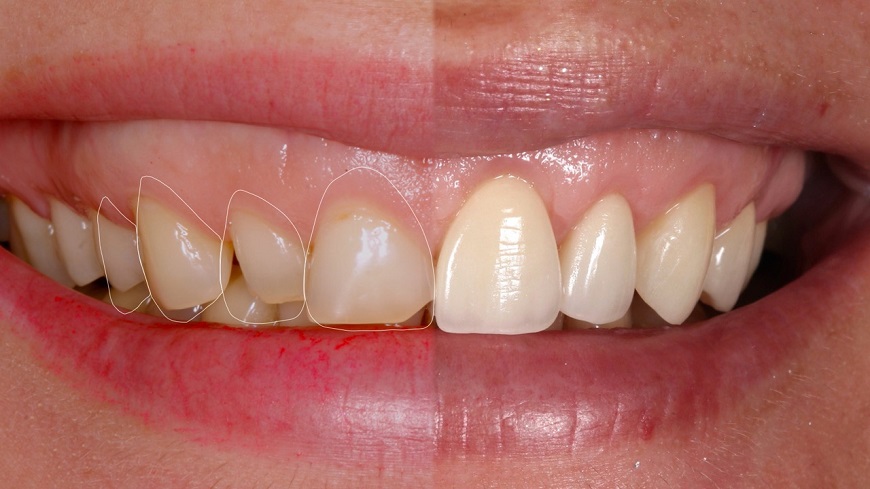 Veneers visually correct defects in the dentition in a short time. However, most clients hesitate to install them, as they do not know how much veneers cost for several or all teeth. The doctor will announce the cost after the first examination, so you can make an appointment at the doctors and get a first free consultation to find out the total cost of treatment.
The price of veneers depends on
type of plate;
material of manufacture;
the number of teeth in need of treatment;
carrying out related procedures (initial consultation, caries treatment, anesthesia, etc.).
How to care for veneers?
Prosthetic care includes:
daily oral hygiene in the morning and evening;
selection of soft toothpaste and a brush with not very stiff bristles;
mouthwash after eating;
avoiding situations in which mechanical impact on the prosthesis is possible, for example, blowss;
refusal of too hot and too cold food, opening nuts and seeds with teeth, crackers, etc.