Veneers
Veneers are thin structures that are actively used as micro-prostheses in order to restore the color range and shape of one or more dental units. Custom made veneers for teeth help to fully emulate an attractive smile.
Currently, veneers are used as a worthy alternative to braces and crowns. The main thing is that the correct indications for installation are selected. It should be taken into account that restoration measures are not a complete replacement for complex prosthetics. Veneers placement mainly solves problems of an aesthetic nature.
Turning to the clinic "Smile Factor", each client will be able to get a detailed consultation, choose the right veneers. Also, experts will be able to calculate how much do Veneers cost and choose the most suitable solution.
Types of veneers available at the clinic
The classification of veneers is based on the type of material used:
composite and ceramic veneers . These are the fastest installation designs, but do not have a long service life. The main plus lies in the use of a gentle installation method with minimal time costs. High-quality modern composite materials are used for production. Hardening occurs in layers when applied to the surface of the tooth;
leucid glass ceramics. The finished structure has a natural translucency and creates a smooth transition from enamel to dentine. Such designs have not only high technical characteristics, but also surpass the first option in terms of aesthetics;
zirconia. Such veneers endure exposure to food dyes, do not deform during chewing load. The thickness of ceramic plates varies in the range of 0.4-0.5 mm, which allows you to imitate enamel.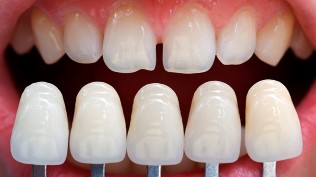 There are other types of structures. For example, porcelain veneers . However, experts cannot give a specific answer which option is best. For each patient, the selection should take place on an individual basis. Experienced clinic dentists first of all take into account the preferences of patients, what defects need to be corrected, how much does it cost to get veneers and financial preferences.
No matter what types of veneers are used, the work of experienced Factor dentists Smile always features high precision and affordable veneers cost.
The cost of installing veneers
final veneers for teeth cost depends on several factors: the clinical picture of the oral cavity, the material of constructions and what manufacturing technology is used. The clinic periodically offers favorable discounts and promotions, which makes it possible to put Veneers on your teeth on favorable terms.
There are several advantages of ceramic veneers over composite material:
excellent aesthetic qualities with complete imitation of tooth enamel;
the original color is preserved throughout the entire period of use;
safe compatibility with the body without the occurrence of unpleasant symptoms;
high level of resistance to mechanical loads;
reliability of structures with proper maintenance;
does not need constant replacement.
Ceramic products also have certain disadvantages. But often they are not contraindications to the procedure. It is enough to make several visits for treatment. However, ceramic products cannot be repaired. These veneers need to be completely replaced. Some patients are stopped by the high cost of veneers , but the Smile Factor clinic helps to find the best solution for each client.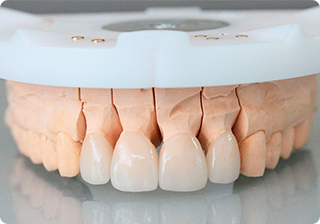 Composite structures have their own advantages:
minimum terms for production. As a rule, it is enough to allocate only an hour for visiting a doctor;
turning in a sparing mode, which allows you to save a maximum of fabrics;
the best restoration option if there is a limited financial budget.
The main disadvantage is that there is no color stability. Therefore, veneers are often stained in the color of the products used. Replacement is required every 5 years.
Сreate a design of a smile